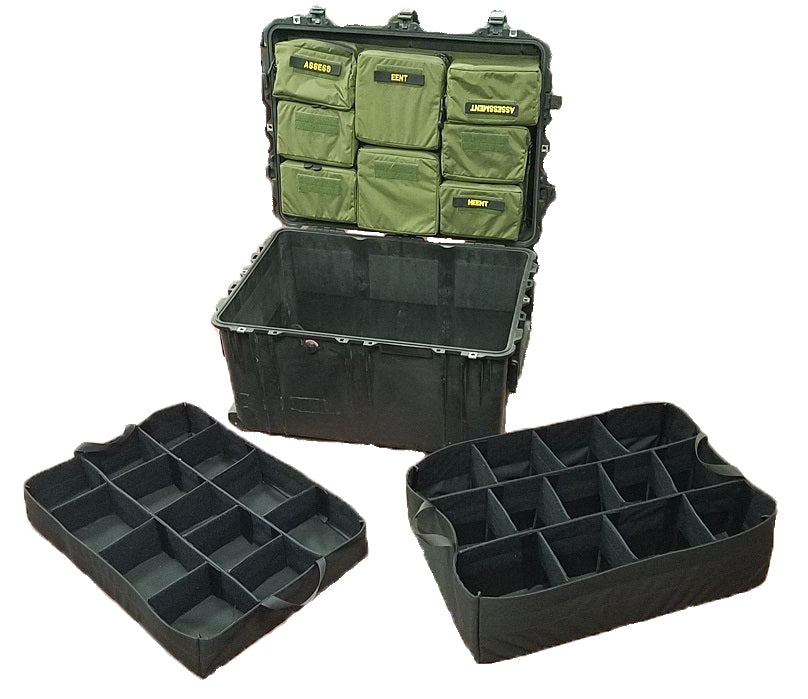 Modular Medical Case Insert System
MMCIS-PM-MK2-BLK-2
---
Drop in medical box trays with Velcro adjusted dividers and end handles
The Need: A Pelican or Storm box needs organizer drawers, not more pouches.
The Answer / Description: The Modular Medical Case Insert System provides customizable nylon organization of medical items dropping into a Pelican 1660 case (not included). The lid organizer is comprised of 6 small and 2 large MOLLE compatible rectangular zippered pouches. These pouches attach to a nylon PALS covered panel that screws into anchor points in the case lid (screw sets included). A set of medical nametape Velcro backed labels is included to affix to the pouches. Label sets are tailored to the topics of trauma, primary care, wound management, preventative medicine and dental.

The 7 inch and 5 inch deep trays drop into the main compartment and extract using nylon web handles on each end. The trays are made up of 1000 denier nylon covered plastic lined with loop Velcro. The plastic divider panels secure to the sides adjustable using male Velcro. Each tray has two long and 10 short dividers. Medical nametapes can affix to the loop Velcro inside the dividers.

Features:
Lifetime Warranty
Made in the USA
1000D Cordura Nylon
Dimensions: 18"x28"x16"
Volume: 8064 cuin
Weight: 13.62 lbs
Plastic box (Pelican 1660 Case) not included. 

Product Code: 
NSN: 6515-01-670-9839 - MMCIS-D-MK2 - Dental
NSN: 6515-01-670-9753 - MMCIS-PC-MK2 - Primary Care
NSN: 6515-01-670-9841 - MMCIS-PM-MK2 - Preventative Medicine
NSN: 6515-01-670-9956 - MMCIS-T-MK2 - Trauma
NSN: 6515-01-670-9838 - MMCIS-WM-MK - Wound Management

*Many S.O.Tech products are currently made to order. Standard lead-times on made to order items are between 4 to 6 weeks from order placement (there are exceptions). Once your order is placed you will be contacted by one of our customer service reps with current availability and lead time. Please allow 24-48 hours for order processing.